30 Years Ago: 2 Live Crew Acquitted
Today in 1990, the rap group 2 Live Crew were acquitted of obscenity charges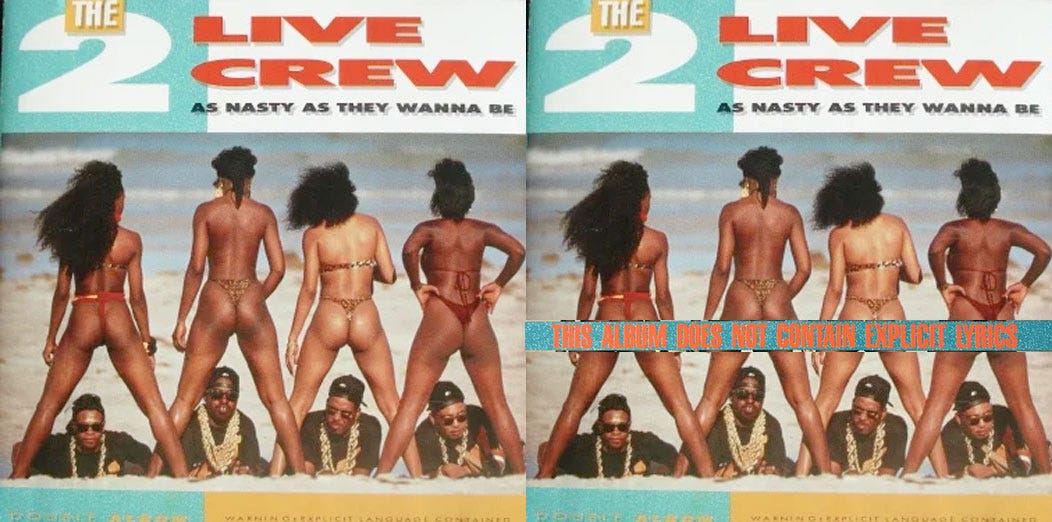 Obscenity trials seem like a relic from a long distant past. We are reminded of their existence only by happenstance, like walking past the BANNED BOOK WEEK table at bookstores. We might stop to peruse Lady Chatterley's Lover or Tropic of Cancer, and page through their poesy, casually muttering aloud, "How the fuck did someone find this offensive?"
The last major obscenity case in America concluded 30 years ago today, when the Miami rap group 2 Live Crew were acquitted of charges by the Eleventh Circuit Court of Appeals in Florida. It was quite the ordeal. Henry Louis Gates, Jr. showed up to address the court on the behalf of the Crew. Christopher Hitchens wrote about it, calling the judge and arresting sheriff a "pair of racist shitheads who should be told to fuck right off." 
The centerpiece of the case was As Nasty As They Wanna Be, an album featuring such succulent tracks as "Dick Almighty," "The Fuck Shop," and the debut single, "Me So Horny," a raunchy misogynist hit that gave teenage boys terrible ideas. If someone tried releasing it today, they would be cancelled so fast.
It was the biggest censorship controversy of the era, up there with the fatwa placed on Salmon Rushdie by the Ayatollah Khomeini, occurring around the same time. I've always wondered: Did Iran inadvertently help the American free speech movement by banning The Satanic Verses? They made censoring culture seem so retrograde.
Did you know? This was not the most influential 2 Live Crew lawsuit. Campbell v. Acuff-Rose Music was a critical intellectual property case that went to the Supreme Court and established that commercial parody can qualify as fair use. The case involved their parody of Roy Orbison's "Oh, Pretty Woman" called "Pretty Woman." 
---
MORE ANNIVERSARIES
20 Years Ago Today: Ice-T made his debut as a cop on the TV series Law & Order: SVU, eight years after his band Body Count released the controversial single "Cop Killer." 

40 Years Ago Today: U2 released their debut studio album, Boy.

75 Years Ago Today: The film noir Mildred Pierce (1945) premiered across the nation. Joan Crawford would go on to win the Oscar for the titular lead role.